Hello readers,
when chasing hardest DX, we need patience and intelligence. Patience is not to give up something that others think is impossible because they do not give it the right time, or just want everything at once; the intelligence needed to make to become, paradoxically, a DX for DX: go fast or slow while keying, shift up 1 kHz while you are keying, put your emission at the edge of its filter when everyone calls in the middle .. and the DX will want to chase this strange signal in the mass of uniformity...
And perhaps, after 10 long months, maybe i was the "strange signal" for the "Doctor" Hrane Milosevic, though I've used all that one can use around the world to have 10, ops, 11
responses from him.
YT1AD for me is "The Dx'er", one who creates the DX rather than waiting DX in a chair, I would say one of the few that can make me understand who was Don Wallace and Danny Weil to me - even if i never hear them. Able to copy small signals from hordes of keying Russian triodes!
I can definitely say that Ed 4L4FN and YT1AD Hrane are (so far) the "interviews" I considered almost impossible. I am delighted that he wanted to respond.
Ladies and gentleman, YT1AD - Hrane, for HamRadioWeb.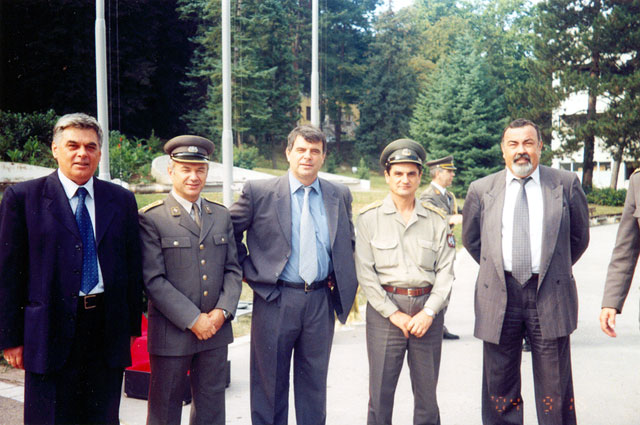 Q: How did you start with the radio, at what age and with what equipment ?

Walking in the year 1969 in my home town of Kraljevo, near the river Ibar, I observed a new building with a large antenna systems. I was then barely 14 years, as every young boy I was interested in technique. I gathered courage, entered the premises of the building, here met members of the radio club of Kraljevo, YU1DKL and since then I became fans of our wonderful hobby, which is often more then only hobby.
Q: What is your primary activity on the radio now ? Your favorite bands and modes?

DX work on HF frequencies and, on the other side, organizing DX expedition on remote DX and uninhabited locations is main point of my activity during all my amateur life.
Q: Contests and awards.. you like or dislike it?

Competitions, Contesting and preparation for it are a great challenge and satisfaction. Diploma and plaque is the only crown the work, which is awarded for achievement, but at the same time and is reminiscent of the invested time, effort and often great financial resources.
Q: Tubes or solid-state?

No difference. Both techniques are interesting and have their charms and specifics.
Q: SDR or traditional radio?

From my previous writing, it can be immediately understood that I am or the classic, traditional radio.
There is no better music than noise of DX connections on the top, 160 m band.
Q: The most exciting thing you remember about our hobby?

My profession is electrical engineer, a university professor. Together with my hobby, I was in over 130 UN countries,
visited over 190 countries by DXCC list. All these visits and meetings have special stories and delight.
Q: The worst thing you remember about our hobby?
Often, the discomfort is interesting, I would not be called ugly or bad, but often is the "not understanding" by individuals in some cases about our hobby, which is often associated with commercial radio, association although unjustified and inaccurate, but - take all the officials connected with commercial radio and other communications our hobby and sending them in one basket - and then the trouble starts.
For example, I recently was on Fiji and preparing an expedition to Rotuma, 3D2R and Conway Reef, 3D2C, few years ago. On this beautiful island of the Central Pacific last 15 years I was more than 50 times, I have all the necessary licenses for amateur radio activity as 3D2AD, however, near Nadi airport at the Radisson, where I was active with all regular documents, one day coming local Police. All day from 10,00 AM till 10,00 PM I was in local Police station, on one long, long interview...One, local policeman liked one star more, but after long communication with Ministry of communication and tourism of Fiji I was free to continue my DX work.
Q: better in the "old days" or nowadays?

Easy question, but the answer is hard, but I think I'm more for nowadays.
Q: Radioamateurs will survive to digital era?

Ham radio, should not come into question. He was the ancestor of all communications and digital techniques, together with gains in quality and future of the young and new technologies
Q: What would you say to a fresh license, if you were "the elmer" ?

Next big trip is DX expedition on small in very nice island, Conway Reef, 3D2C. We will on this island from
September 25th till October 5th 2012. Next year, maybe XZ or one of the biggest challenge amateur KH1.
In the meantime I will work two WPX contest's SSB and CW from Tunisia, with the call sign 3V8BB, which is a special story for me and whom in the last 17 years, from April 1995 I did more than 350,000 amateur contact's, QSO's.
And, a special one #11 question,
Q: you are P5A, fully licensed in North Korea.. one day you will.. ?
Can we know the piece of the story that you can publicly explain?
North Korea is the most amateur wanted nr 1. I have visited 2 times the mystical and interesting country. During my first visit, in the the discussions with the Director of Radio Northern Korea, I got the paper to activate the CALL sign P5A. I was told that I wait one day to get the approval of military authorities, but that day has not arrived. The second time was an attempt with no result.I said never again, but who knows!? I must say that the people of North Korea fanatically loves his country and its leaders. I hope will very quickly with a valid permit some of HAM's to be active in this country. Until now, all activities and that are recognized, they were illegal.
Thank you for the interview and the opportunity to express my views on some of my amateur opinions. Especially greetings to all my Italian friends and amateurs, with whom I was always a great satisfaction to talk in my poor Italian.
Thank you, Hrane, for the honor granted to me and HamRadioWeb with answering these questions.
And a special thanks for every time that, in 10 kHz split window you got the small signal with my call, making the exception a rule
Cristiano IZ0IEN/AB3NT